According to an AARP poll, in 2019, nearly 6.7 million people lived in manufactured homes, also commonly referred to as mobile homes.  Of the 6.7 million people, 48.9% of the homeowners are 55 years old or older.  
Often, when people reach retirement age, it is time to downsize, which makes living in a manufactured home a good option.  However, with age also comes health ailments, which can eventually lead to the necessity of a wheelchair. In a study published by the Journal of Aging Research, there are 1 million wheelchair users that fall into the 65 year old and older category. 
How do you make a mobile home wheelchair accessible? Several things will need to be done to make a mobile home wheelchair accessible if it was not originally built to accommodate a wheelchair. 
Wider doorways – at least 36 inches
A bathroom that can easily fit a wheelchair
A walk-in shower
Handrails to support the weight of the person in the wheelchair
Special countertops that can accommodate a person in a wheelchair
A ramp for ease of entering and exiting the home
Specific flooring that will allow the wheelchair to move
As you can see, many things go into making a home wheelchair accessible.  When looking at a manufactured home, it may take more construction know-how to perform certain renovations. The last thing you want to do is jeopardize the integrity of the structure. 
Are Mobile Homes Wheelchair Accessible?
This question is asked quite frequently. As a matter of fact, if you Google this question, you will receive approximately 581,000,000 results.  Clearly, this is a question that many people have. As stated earlier, there is a significant population of elderly people that are going to need to use wheelchairs that live in older manufactured homes.
If you are purchasing a new manufactured home, you can purchase a home that is specifically built to be wheelchair accessible.  While this is great in theory, it isn't always possible to go out and purchase a new home when you find the need to use a wheelchair daily.  In fact, there are probably very few older individuals that want to purchase a new home when working with a fixed income.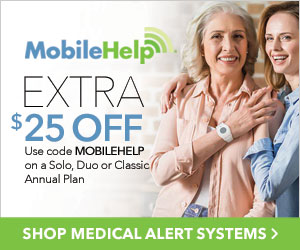 What Makes a Manufactured Home Wheelchair Accessible?
You may be wondering what exactly makes a home wheelchair accessible.  After reading the above renovations that may need to take place, you probably have a general idea of what exactly makes a home wheelchair accessible.  However, let's look a little further into the details.
The Americans with Disabilities Act (ADA) has written specific guidelines for homes being built and labeled as wheelchair compliant.  Please be aware this is not an inexpensive venture because there will be significant changes that need to occur. Even with updates, you will likely not be able to convert an older model mobile home into a 100% ADA compliant residence. 
Although the mobile home may not be 100% ADA compliant, you will likely be able to renovate enough of the home to make it wheelchair accessible for the comfort of the individual using the home. To make these renovations, you will need to put a lot of thought and work into the project. 
Widen Doorways and Halls
ADA compliance says that doorways and hallways need to be 3 feet wide, which will allow a wheelchair to fit through comfortably. Now, you are probably thinking about how in the world you widen the hallway of a mobile home?  Likely, you won't be able to widen the hallway, but you may be able to successfully widen the doorways. 
When you prepare to widen any of the doorways in the home you MUST make sure it is not a doorway that is considered load bearing.  This means the doorway is helping to support the structure of the house. If you damage a load bearing portion of your home, it will no longer be structurally sound.  
When looking at the hallway, you are likely not going to be able to do much with the width, simply because structurally, the home won't allow it. 
How do I know If it is Load Bearing?
In most mobile homes, the load bearing walls, which would include a door, are the outside walls. If the mobile home is a double wide, there may be a center wall, such as a hallway wall, again with doors that are load bearing.  If you are uncertain, it would be wise to ask a professional that has experience with mobile homes. 
Remove Steps
If your mobile home has steps of any type, you are going to want to remove them in order to allow the wheelchair to move through the home freely. There are a couple of ways to get rid of the step. 
Build the level of the floor you are stepping down to, up to meet the other floor.  This will likely take time to do accurately.  
Build a small ramp from one room to the next.  Although this isn't ideal, it may be the easiest and most cost-effective option.  Just be sure to have an appropriate slope to the ramp, you don't want to launch yourself from one room to the next. 
Exterior Steps
Most mobile homes have exterior steps to gain access to the home.  It is going to be very important that you have an appropriate ramp built to bypass the steps.  Some people choose to build a ramp right over the steps, while others prefer to put a ramp off to the side.  
No matter which choice you make, do be sure the ramp provides easy access to the driveway.  If the ramp goes into the middle of the lawn, it could be problematic when the weather is less than ideal.  Wheelchairs are not known for their ability to trek through snow and mud.
Check the Flooring
The flooring is an often overlooked, but extremely important part of the renovation.  If the mobile home has thick or shag carpet, it will be difficult to maneuver the wheelchair, and it could pose a safety risk for the user. 
Wheelchairs tend to do best on hard surfaces, so it would be beneficial to upgrade to tile, linoleum, or hardwood flooring.  
It is important to remember that flooring doesn't have to be terribly expensive.  There are many laminates on the market today that look extremely nice and have strong durability that can withstand the use of a wheelchair. 
If you choose to use carpet, do be sure to choose a low pile or Berber type of carpet that will stand up to the wear and tear of wheels daily. This type of carpet is also more conducive to the movement of wheels, as it provides a firmer surface.
The Bathroom
It is very important that you spend extra time and resources when it comes to the bathroom.  There are many hazards in the bathroom when it comes to falls. You want to ensure this room is as close to ADA standards as possible.  This room will likely take the most time to make wheelchair friendly.
First, if you are in a mobile home, space is likely going to be an issue. You want the widest doorway you can get, so the wheelchair will fit into the bathroom.  Next, look at the tub. If an individual is in a wheelchair, they are likely not going to be able to step over the edge of the tub for their shower. 
You will need to remove the current tub and replace it with a walk-in shower.  Be careful with the step it takes to get into the shower, a slight step should be okay, but you don't want to go above a 3-4-inch step.
Setting up the Inside of the Shower
Once you have an appropriate shower in place, you need to ensure it is safe for the individual to be in the shower.  In order to do this, you need to make sure there are handrails or grips securely fastened to the inside of the shower.  
Do not rely on suction cup mechanisms for this.  If the suction cups fail, the handrail will be useless and could cause an accident that never needed to happen.  Make sure the handrails are permanently affixed to the inside of the shower. You may even wish to put a shower seat in the shower.
From personal experience, it is often easy for the individual to get into the shower, but once in the shower, they become exhausted and need a place to rest.  Often, individuals will fall into the shower because of this. A shower seat could help prevent an accident from happening.
The Toilet
The good news is that you probably don't need to replace the toilet unless you feel that it should be higher. Some toilet bowls are relatively low to the ground, which could cause an issue for an individual transitioning from a wheelchair.
The most important thing is going to be to make sure there is space in front of the toilet so the person can easily move from their chair to the toilet.  To ensure ease of use, it is going to be critical to have handrails around the toilet. It is recommended that there be three sides of rails, but logistically this may not be possible.  At any rate, there should be a handrail on each side of the toilet. 
The Sink
Ideally, the sink in the bathroom would be low enough for the individual to wash their hands and see in the mirror comfortably.  In order to accomplish this, you will need to remove the sink and cabinetry and replace it with new materials. The recommendation is a sink that is 31 inches high. 
The Kitchen
This is a location in the home that will need to be made accessible for a wheelchair, especially if the individual frequents the kitchen and enjoys cooking.  When looking at a wheelchair renovation for the kitchen, it is going to be costly and time consuming.
Space
You will need to make sure there is enough space for the wheelchair to move safely around the kitchen.  In order to accomplish this, you may need to move furniture from the kitchen. You may also need to remove a non-load bearing wall to add extra space. 
Typically, mobile homes have a small bar countertop that investigates the next room.  This is likely not a load bearing wall and can, therefore, be removed. Before removing this wall, check for electrical wires running through it.  You want to be certain that you are safely removing the wall.
The removal of this wall will likely open the space a bit more.
Countertops
The next thing that needs to be adjusted is the countertops.  The recommendation is a height of 23 inches. This height allows the individual to remain seated in the wheelchair and still be able to reach to the back of the countertop.  
Appliances
If you are completely renovating the kitchen, you will need to invest in new appliances that are wheelchair friendly.  The stovetop will need to be lower to ensure it can be safely used by the individual in the wheelchair.
You may need to purchase a special dishwasher that will allow the individual to easily access the door without bumping into the wheelchair or needing to lean far forward in their chair.
Cabinets
Another thing that needs to be considered is the storage in the kitchen.  Typically, the cabinets are above sink level, except for those on or near the floor.  If an individual is in a wheelchair, they are likely not going to be able to access cabinets that are high in the air.  Because of this, it is important to provide ample storage in lower level cabinets. 
Miscellaneous Adjustments
Above I covered the main adjustments that need to be made in order to make a mobile home wheelchair accessible.  There are some other things you may wish to take into consideration when making a mobile home wheelchair accessible.
Electrical outlets and switches
It is important that all outlets and switches are at an appropriate level for the individual in the wheelchair.  They should be able to reach all outlets and switches comfortably. This may mean that you need to lower some of the switches and outlets.  
If you are not comfortable working with electricity, it would be advantageous to hire a trained professional for this portion of the job.  You will need to do a lot of cutting and rearranging of wires. It is important that this is done correctly to avoid a fire or electrical shock risk. 
Intercoms or Security Features
When an individual is relegated to a wheelchair, there is a certain degree of risk involved when it comes to their safety.  Because of this, it may be beneficial to have an intercom or specific safety system installed. The intercom would allow clear communication from both room to room and to emergency personnel if needed.
A security system is a good idea for anyone, but especially for someone with compromised physical capabilities.  The system may be as simple as a push button system or as advanced as a full house 24/7 monitoring system. The extent of the system is strictly personal preference. 
Laundry 
In a lot of mobile homes, you will find a stacked washer and dryer or top loading appliances.  For an individual in a wheelchair, both are poor options. It would be best to replace the appliances with front load machines that can be easily accessed by the individual.  It is also important that the laundry supplies have a cabinet at the appropriate level for ease of access. 
Getting Ready to Renovate
As you can see, there are many things that need to be done to make a mobile home wheelchair accessible.  The tips provided above will not make the home 100% ADA compliant, but they will make the home more comfortable for the individual.
This is not an overnight project.  You will need to have a very specific plan in place. To make the process go smoothly, I would highly recommend that you consult with an architect or someone extremely familiar with mobile homes and their structure.
Make sure you have help with this project. Not only would it be quite overwhelming to tackle this alone, but it will also take a significantly longer amount of time to complete the project.  Whenever I plan a renovation project, I think work smarter, not harder.  
Finally, ask the individual you are renovating the mobile home for, what their preferences are.  Perhaps they only frequent one bedroom and really don't want or need access to extra rooms. If this is the case, there is no need to add the extra task of widening all the doorways.  
Concluding Thoughts
Enjoy the time you spend making your mobile home wheelchair friendly.  Try to stick to a budget and get help when you need it. I would highly recommend help with anything plumbing or electrical.  Both of those items could cause significant damage if not completed properly. Happy renovating!