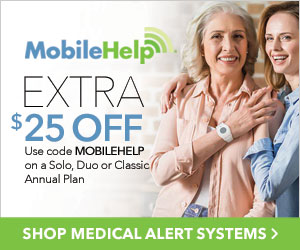 Click on the above link to get the current pricing. This is an affiliate link.
Most Complete Emergency Medical System
This is a great product and service to have when your worried about your family members safety. They are monitored 24 hours a day 7 days a week.
If they are in need of any help all they need to do Is press the help button that is around their neck or on a table top unit.
After the help button is pushed your information is sent to an emergency operator. The operator will establishes 2-way communication with you and assesses the situation.
The Operator will contact a neighbor, family member or emergency services based on specific need.
The products the offer are:
Home Units
On The Go
Complete Protection
This will definitely give you piece of mind knowing that your loved one is only a push button away for getting emergency help if needed.